Gorillas to Vic Falls
Booking Dates
07/02/2023 through 11/13/2024
Travel Dates
07/02/2023 through 11/16/2024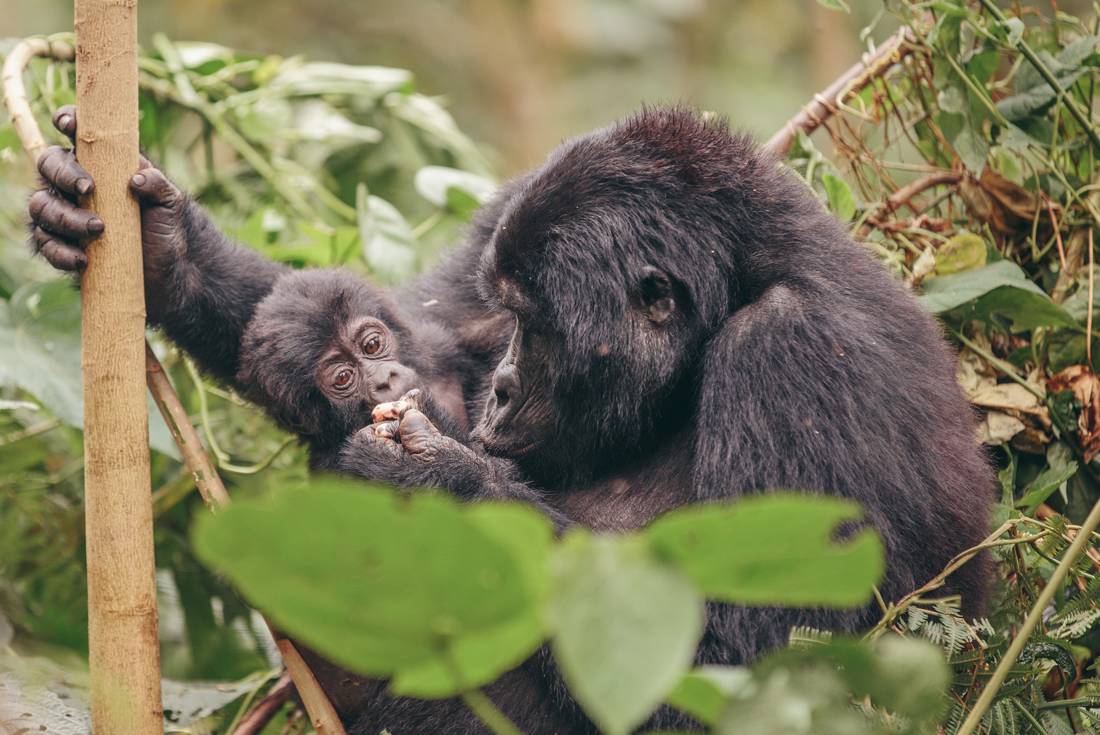 Gorillas to Vic Falls

Spend 42 days travelling through the iconic vistas of East Africa. Seek out the rare mountain gorilla in Rwanda's steamy jungle, enjoy thrill-packed safaris through lush forest and open savanna and finish in Victoria Falls. Be welcomed into small villages in Tanzania and Malawi, relax on sandy beaches in Zanzibar and track the Big Five in the Ngorongoro Crater and Serengeti National Park. This overland adventure is a mix of locally-guided excursions and free time to follow your heart to the stuff you want to see.

Activities
Lake Nakuru – Overland Vehicle Game Drive
Lake Nakuru – Morning Overland Vehicle Game Drive
Queen Elizabeth National Park – Overland Vehicle Game Drive
Bwindi National Park – Mountain Gorilla Permit & Trek
Kericho – Tea plantation visit
Masai Mara National Reserve – 4×4 Game Drive
Masai Mara National Reserve – Full Day 4×4 Game Drive
Ngorongoro Crater – 4×4 Game Drive
Serengeti National Park – 4×4 Game Drive
Serengeti National Park – 4×4 Game Drive
Serengeti National Park – 4×4 Game Drive
Mto Wa Mbu – Village walk & local dinner
Irente – Lushoto hike
Irente – Local lunch
Mikumi National Park – 4×4 Game Drive
South Luangwa National Park – 4×4 Dawn Game Drive
South Luangwa National Park – 4×4 Afternoon Game Drive
South Luangwa – Jewellery workshop Project
Masvingo – Great Zimbabwe Ruins guided visit
Highlights
Gorilla permits included! Seek out the rare mountain gorilla on a trek through Uganda's steamy forests and spend an unforgettable hour in their presence.
Take two game drives through the Masai Mara National Reserve, looking for lions, zebras and wildebeest crossing the iconic plains.
Go looking for rare black rhinos on a safari in Ngorongoro Crater, a 20-kilometre-wide crater that around 25,000 wild animals call home.
Spend a night camping in Mto wa Mbu, a multicultural Tanzanian village where you can grab dinner with some locals and shop for crafts.
Discover the largest ruins in sub-Saharan Africa – Great Zimbabwe. A World Heritage site, the ruined city was first constructed in the 11th century.
| Day | Description | View All |
| --- | --- | --- |
| Day 1 | Nairobi | Details |
| Day 2 | Lake Nakuru National Park | Details |
| Day 3 | Eldoret | Details |
| Day 4 | Kampala | Details |
| Day 5 | Kalinzu Forest | Details |
| Day 6 | Queen Elizabeth National Park | Details |
| Day 7 | Kisoro | Details |
| Day 8 | Gorilla Trek | Details |
| Day 9 | Gorilla Trek | Details |
| Day 10 | Mbarara | Details |
| Day 11 | Jinja | Details |
| Day 12 | Jinja | Details |
| Day 13 | Kericho | Details |
| Day 14 | Masai Mara National Reserve | Details |
| Day 15 | Masai Mara National Reserve | Details |
| Day 16 | Nairobi | Details |
| Day 17 | Mto wa Mbu | Details |
| Day 18 | Ngorongoro Crater / Serengeti National Park | Details |
| Day 19 | Serengeti National Park | Details |
| Day 20 | Serengeti National Park / Mto wa Mbu | Details |
| Day 21 | Usambara Mountains | Details |
| Day 22 | Usambara Mountains | Details |
| Day 23 | Dar es Salaam | Details |
| Day 24 | Stone Town | Details |
| Day 25 | Zanzibar Northern Beaches | Details |
| Day 26 | Zanzibar Northern Beaches | Details |
| Day 27 | Stone Town | Details |
| Day 28 | Mikumi National Park | Details |
| Day 29 | Iringa | Details |
| Day 30 | Chitimba | Details |
| Day 31 | Lake Malawi | Details |
| Day 32 | Lake Malawi | Details |
| Day 33 | South Luangwa National Park | Details |
| Day 34 | South Luangwa National Park | Details |
| Day 35 | Petauke | Details |
| Day 36 | Lusaka | Details |
| Day 37 | Harare | Details |
| Day 38 | Great Zimbabwe Ruins / Masvingo | Details |
| Day 39 | Bulawayo | Details |
| Day 40 | Bulawayo | Details |
| Day 41 | Victoria Falls | Details |
| Day 42 | Victoria Falls | Details |